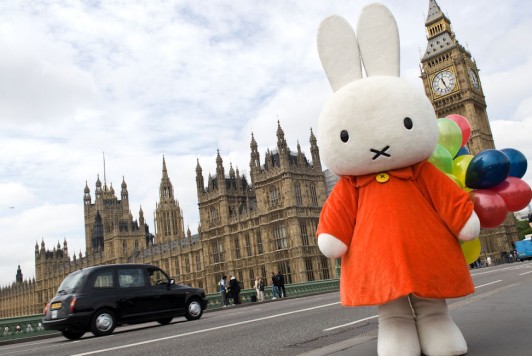 It's been an action-packed year so far for Miffy, as this classic children's character celebrates her 55th anniversary throughout 2010. As we enter the final quarter with Christmas on the horizon, here's a round up of some of the highlights.
As with Miffy's previous anniversaries that we've publicised (45th in 2000, 50th in 2005), we've used a mix of brand PR initiatives, birthday events, traditional media relations and social media to increase awareness of the character and drive sales of licensed product.
To mark World Book Day in March, we organised a colouring competition in UK pre-schools. This raised over £3,000 for Book Aid International, led to coverage in The Guardian and boosted hits on www.miffy.com by 920% on World Book Day.
In April, we set up a 2 page arts feature on Miffy's creator, Dick Bruna in The Independent's Saturday Magazine, and secured prominent photo coverage on The Telegraph Online.
During Miffy's official Birthday week in June, we staged a costume character photoshoot on Westminster Bridge and held a bespoke tea party and Autumn product preview for key journalists, mummy bloggers and their offspring at the private member's club, Maggie and Rose in Kensington. We also staged interactive promotional events in retail outlets such as JoJo Mama Bébé's flagship store in Kingston, amplifying the events through local media.
In September, The Daily Mirror featured a cute Miffy gymbag as the number 1 item in its choice of back to school products. The bag also featured in tween titles Girl Talk and Star Girl, along with a matching backpack.  A stylish Miffy lamp has also just featured in The Sunday Telegraph's Stella Magazine.
Having started our Christmas PR campaign back in June, we're now well on the way to securing a high volume of product placement in consumer gift guides across a wide range of sectors. Miffy gifts span all ages, and a new range of design-led Dutch imported toys and interior products, available on www.miffyshopUK.co.uk, is proving very popular with journalists. We're expecting a mass of Miffy Christmas coverage this year.
Throughout 2010, we've also launched new social media profiles for Miffy. Her 903 Facebook fans and 1105 Twitter followers have been able to keep up to speed with all the birthday news, events and high street launches, as well as win numerous prizes.