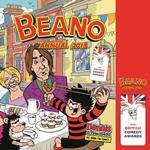 Some of Britain's best-loved comedians feature as Beano characters on a special front cover of a limited edition 75th Anniversary Beano Annual, to be given to guests at the British Comedy Awards tomorrow night.
The specially illustrated cover features names from the world of TV comedy and stand-up, including John Bishop, Miranda Hart, Jack Dee, Sarah Millican, Harry Hill and the host of the Awards, Jonathan Ross.
Editor in Chief of The Beano, Mike Stirling said: "I wonder how many of this year's British Comedy Award winners were inspired to become comics after reading The Beano, the World's funniest comic? I hope The Beano continues to be the first stop for jokes and laughs for the next generation of British Comedy Award winners too!"
The limited edition British Comedy Awards Annual featuring the comedians on the cover is not available to buy, and only 1000 copies have been produced to give to guests at the Awards. However The Beano Annual, which has been at the top of the Annual charts for most of the last decade, can be found in all good bookshops priced £7.99.
The Beano was first published on 30th July 1938. The 75th birthday celebrations will be focused around this date in 2013.