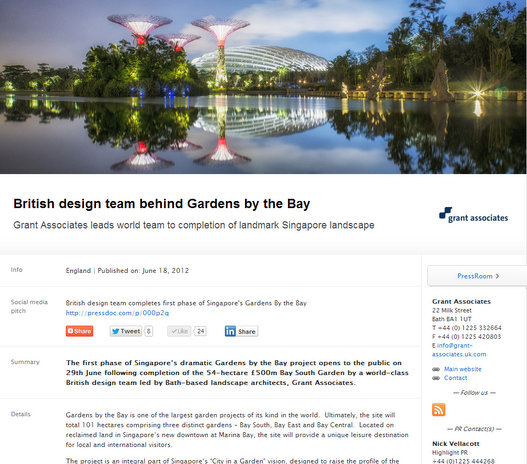 With its attractive layout, ease of use, photo handling, SEO value and tracking features, PressDoc is a fantastic online press release tool for engaging with press, bloggers and customers in the digital age.  
Social media news releases (SMNRs) have been around for a while.   For those not familiar with them, the concept is pretty simple.  Instead of issuing stories to journalists via email and bulky photo attachments, you put everything on one multimedia rich URL and share it via email, social media and Google.
The advantages of this approach are significant.  Journalists and bloggers can get 24/7 access to complete press kits, multiple hi-res photos, links, videos and backgrounders – all from one simple URL.    It's also great for SEO and social sharing, and a valuable way to present stories direct to customers, consumers and other stakeholders online.
There are quite a few options out there – Pressitt, Realwire and Pitchengine are three good examples.  But recently we came across Dutch-based PressDoc, and in our view, it's the best of the bunch.
Here's what we particularly like about PressDoc:
Attractive responsive design

When you've spent time crafting just the right words, you want your story to look its best too.  PressDoc gives every story visual impact, and it's dead easy to use.  The ability to add custom header images on individual stories is a nice touch in the Premium version, and backgrounds can be customised too.  And of course, everything's optimized for mobile platforms, so content looks good however it's accessed.

Great photo handling

Good images make all the difference in PR.  Trouble is, print titles need very different resolutions to websites and bloggers.  And you can't send loads of hi-res images to press on spec.  With PressDoc, you just upload any number of hi-res images to one story, and bingo – the system creates 5 different sized versions of every image to download or embed.

Social and Google friendly

OK, social sharing is a feature of all SMNR platforms, but I like the way PressDoc just keeps it simple again.   You can link all your company's social profiles to your PressRoom (and those of your PR agency), as well as embed latest company tweets right in your stories.   Importantly, stories also get indexed by Google News, adding to their online visibility and SEO richness.

Simple press lists

A brand new feature launched this month, PressLists allows you to upload your contacts to your account, tag them however you want and then distribute stories straight from the system.  You can track open, click and bounce rates, and drill down to see exactly who's engaged with your story.

Analytics and insights

Tracking engagement and reporting success is vital for any release.  PressDoc presents key metrics such as visits, page views, social shares, keywords and traffic sources in a simple, headline dashboard.  You can also integrate the system with Google Analytics to drill down deeper where needed.

Bookmark online coverage

Once you're story is out there, and you're starting to pick up coverage via Google Alerts and media monitoring services, you can tag online articles directly to your PressRoom using PressMarks, marking them public or private depending on your needs.
Like everything else with this impressive platform, pricing is simple too – either pay as you go for a Single PressDoc, or on a monthly subscription for a more fully-featured Premium PressRoom with unlimited PressDocs.  Live support is fast, friendly and open to suggestions for improving the platform.
All in all, this is an excellent platform, that has helped us deliver significant coverage all over the world for campaigns such as the launch of Gardens by the Bay for Grant Associates.
Of course it's important to remember that no amount of nice packaging can make up for a poorly written, badly-timed PR story.  Good solid PR skills are still needed to get the most out of this platform.
But if you're looking to take the presentation of your online press releases to the next level, it's well worth checking PressDoc out.