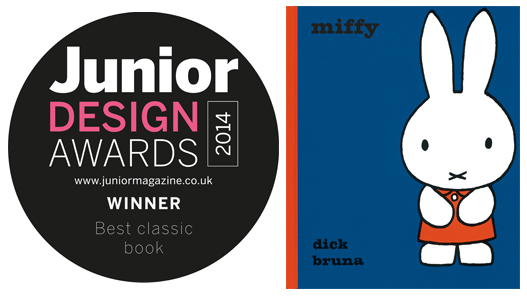 miffy – the picture book featuring Dick Bruna's iconic bunny character – has won Best Classic Book in the Junior Design Awards 2014, it was announced today.
Published in 1955, miffy is the first story in Dick Bruna's series about the little white bunny. Exploring the universal experiences of childhood, the books have enchanted generations of children worldwide and today are published in more than 50 languages.
Ahead of Miffy's 60th anniversary in 2015, the hardback classic storybooks have been republished in the UK by Simon and Schuster, with modernised texts by award-winning British poet Tony Mitton. Dick Bruna's eye-catching illustrations, which use bold outlines, simple shapes and bright primary colours, remain the same.
Lara Hancock, Editorial Director, Picture Books at Simon & Schuster Children's UK comments:
"A classic book is one which can stand the test of time, remaining relevant across generations. Both through its visuals, themes and words, miffy has proved to be timeless –  a recent UK survey saw a focus group with no previous knowledge of Miffy guessing this character was created "perhaps 5 or 10 years ago". A true classic is always as relevant as its modern contemporaries and we're delighted that Junior Magazine has recognised this in miffy."
Miffy App receives accolade
miffy at school was also Highly Commended for Best Children's App in the Junior Design Awards 2014.
miffy at school, available for iPad and iPhone from the iTunes store, uses Dick Bruna's classic illustrations from his original story book and offers simple counting and drawing activities, using fun, imaginative formats. It is one of four Miffy apps to have been developed by Sanoma Media, in conjunction with publishers Mercis bv.  The first app, miffy's garden went straight to the top of the iPad book charts in the UK when it was launched in February 2012.