Just back from London's Toy Fair at Olympia, we report on how our client EPOCH making toys kicked off its 30th anniversary celebrations for Sylvanian Families with an eye-catching stand that stole the show, live entertainment, a slate of industry awards plus a stream of Sylvanian Selfies with celebrities and press!
After three days exhibiting at the BTHA's London Toy Fair, our client, EPOCH making toys returned with some impressive awards under its belt…
• The start of the show saw the company win the BTHA's Best New Toy Award (Playsets category) for its impressive Adventure Treasure Ship – part of the new seaside-themed range making a splash on EPOCH's stand this week.
• First up at the BTHA's awards ceremony at the Science Museum on Tuesday night was EPOCH's National Account Manager Mark Beaman, who received a Golden Teddy for a lifetime's achievement in the industry.
• Much to their delight, EPOCH making toys also won the prestigious award for Best Designed Stand! And here's why…
This year, EPOCH making toys pulled out all of the stops with its stand and created – what in fact was – a life size Cosy Cottage Starter Home complete with kitchen worktops, decorative wallpaper and pretty window boxes. Outside in the open 'garden' area, quaint picnic-style display tables allowed you to get up close to the new product ranges, whilst an eye-catching, life-sized Bluebell Seven Seater car doubled as a reception desk. As visitors wandered on to the stand, stopping at the various dioramas to view the product displays, watch the mascot characters perform their dance, or talk to EPOCH's sales team, it was easy to imagine you were in Sylvania itself!
The BTHA judge, Roland Earl commented:
"It is an imaginative use of space, clever displays for the product that they are promoting, nice build. It feels relaxed and there is a nice ambience."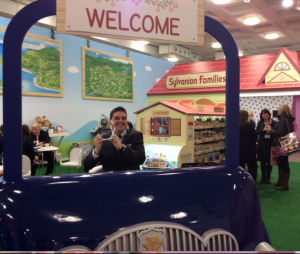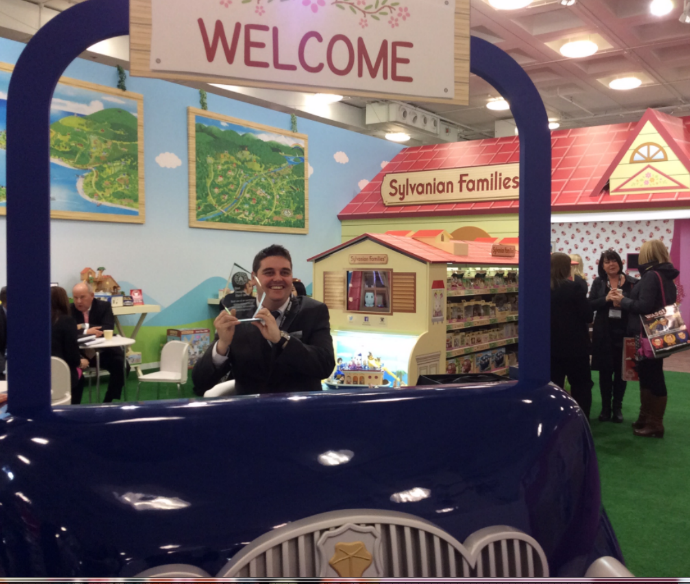 Press Day (Tuesday) was buzzing with the usual celebrity appearances and PR activity. As people toured the show, the iconic red roof tiles of the giant Sylvanian Families house was easy to spot over the top of the other stands, drawing fans of the brand to the stand like a magnet. Once there, people soon joined in the 30th anniversary celebrations by snapping Sylvanian Selfies alongside the mascot characters Freya Chocolate Rabbit and Ralph Walnut Squirrel. Even Vernon Kay stopped by to get in on the action!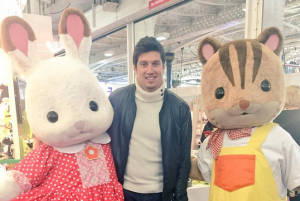 EPOCH making toys was also exhibiting new products in its arts and craft brand, Aquabeads. To demo the impressive design potential of this versatile toy, EPOCH had this amazing castle on display – which had travelled in all in one piece from Japan!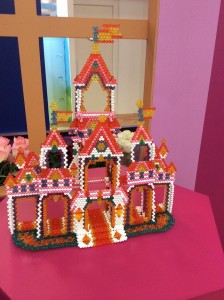 Sylvanian Families is celebrating its 30th anniversary on the 20th March 2015.