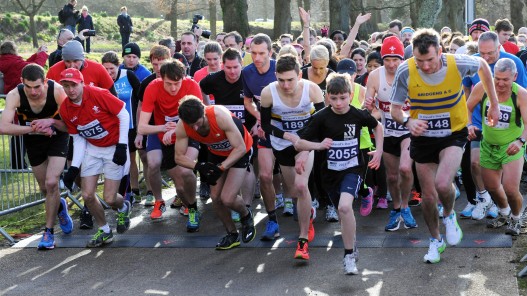 Over 2,000 runners took part in the 13th annual St David's Day Run, that took place on Sunday 1st March 2015 in Cardiff's Bute Park and was organised by MPCT.
Designed to be a fun family day out, The St David's Day Run has raised thousands of pounds for local charities and young people since it was set up in 2003. Runners could choose from three different distances – 1k, 5k or 10k – and entries were welcome from both keen runners and imaginative fancy dressers.
There were around 200 last-minute registrants on the day, making the number of participants exceed 2000.  The male winner of the 5K race was Alun Thomas with a time of 15 minutes, 48 seconds and the female winner was Anna Lawson with a time of 21 minutes, 42 seconds. The male winner for the 10K race was Peter Avent with a time of 34 minutes 33 seconds, and the female winner was Alaw Beynon-Thomas who completed the race in 36 minutes, 42 seconds.
The St David's Day Run was founded by Mr Huw Lewis MBE, managing director of The Motivational Preparation College for Training (MPCT) – a national organisation headquartered in Cardiff, which transforms the lives and career prospects of young people aged 14-19 through military-style training.
MPCT continues to be the main organiser of the event, in partnership with the Cardiff branch of British Military Fitness. This year's event was also supported by technology firm RICOH and Welsh training provider Associated Community Training (ACT). The two main charity partners for 2015 were Cancer Research Wales and the Motivation & Learning Trust (MLT), which supports current and former MPCT learners from disadvantaged backgrounds.
Around 200 learners from all 16 branches of MPCT across Wales and England took part in the 10k run to raise money for the Motivation & Learning Trust. Their participation was part of a 2-day skills competition that started on the 28th February comprising an overnight stay in Sennybridge Army Camp and culminating in a physically demanding series of activities coupled with embedded numeracy and literacy tasks. These activities all took place in Coopers Field behind Cardiff Castle prior to all the Learners taking part in the race.
As well as the hundreds of MPCT learners taking part, the Welsh Guards used the race as the starting point for running 100 marathons in 100 days, an initiative to raise money for the Welsh Guards Charity which supports all of those who have been injured mentally or physically whilst on active service and helps the families of the bereaved.
There were also other Army Reserve Units present at the run and the race started with one of the 105mm Light Guns from 104 Regiment Royal Artillery.