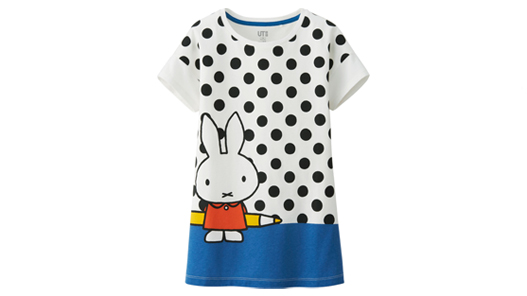 Mercis B.V. has announced a collaboration clothing line with UNIQLO featuring our client, Miffy, in a special Spring Summer 2015 kids wear range to mark Miffy's 60 anniversary.
With global celebrations for the bunny's birthday now in full swing, the launch of the Miffy X UNIQLO range will roll out across UNIQLO stores in 15 countries throughout this month.
Marja Kerkhof, Managing Director of Mercis B.V., Dick Bruna's publishing company commented:
"We are thrilled that Miffy is partnering with UNIQLO during her 60th anniversary year. The timeless nature of Dick Bruna's minimal style as well as the affection people have for Miffy will no doubt ensure this range – which includes kids and baby wear – is extremely popular with UNIQLO and Miffy fans alike."
Yuki Katsuta, Head of Research & Design at UNIQLO and Group Executive Officer of Fast Retailing, said:
"We are very pleased to be able to collaborate with Miffy as she celebrates her 60th anniversary this year. Both UNIQLO and Miffy are known and loved throughout the world, and we hope the new clothing range will bring a touch of happiness to the daily lives of everyone, everywhere."
The range combines Dick Bruna's illustrative style of minimal black lines contrasting with bright primary colours, together with UNIQLO's contemporary approach to clothing design. Miffy's silhouette – instantly recognisable to so many parents and children worldwide – is featured throughout. The result is an eye-catching collection which includes Girl's clothing for ages 3+: tunic UTs (UNIQLO T-shirts) plus shorts. There is also Baby clothing for ages 3-24 months: T-shirts, crew neck bodysuits, and pyjamas.
Miffy was "born" on 21 June 1955, when Dutch artist Dick Bruna, now retired, first drew the character to entertain his young son whilst on a rainy seaside holiday in Holland. The series of picture books which followed used simple illustrations and rhyming text to explore the universal experiences of childhood, immediately earning Bruna international critical acclaim as an author and artist.
60 years later, the Miffy books have sold more than 85 million copies, and are currently published in more than 50 languages. Merchandise is sold across five continents, there are several musicals and TV series, plus a recent Miffy movie. Anniversary celebrations include commemorative stamps, new publishing, exhibitions, an art parade, plus other birthday events around the world. Miffy is also helping to promote the Grand Depart of the 2015 Tour de France in Utrecht in July.
The Miffy X UT Uniqlo Collection will be sold in the following 15 countries: Australia, China, France, Germany, Hong Kong & Macau, Japan, Korea, Malaysia, Philippines, Russia, Singapore, Taiwan, Thailand, UK, USA.