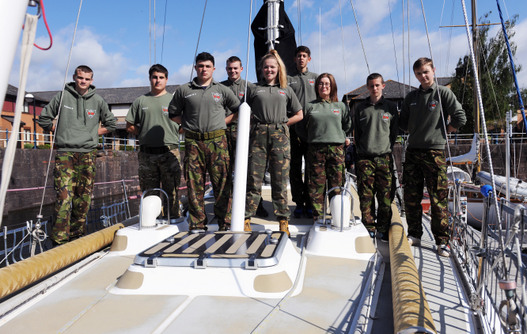 Students from South Wales' Military Preparation Colleges were put to the test this week in a grueling sailing challenge in difficult weather conditions.
Students from the specialist military training colleges were encouraged to take part in order to build up skills required for the military, further training and/or employment. They had to plan passage, change sails, helm, as well as work on their communications skills, teamwork and ability to work under pressure.
The students sailed out of the Penarth Marina and around the South Wales coastline in very choppy conditions in the event organised by the charity Challenge Wales. There were 2 trips in total – 15th and 18th May – and 10 students from the South Wales Colleges, which include Bridgend, Cardiff and Rhymney, took part on each day.
This event was the first to be funded by the Motivation and Learning Trust, which works to advance the education of current or former students at the Military Preparation College by developing their mental, physical and moral capabilities through team-orientated physical activities over and beyond the core curriculum.
Mr Gareth Davies, Training Instructor at MPCT Cardiff, who attended the event with the students, said:
"This was a great opportunity for the students to practise and prove the skills they have learnt at the Military Preparation College. The unseasonal weather made it even more of a challenge than they were anticipating but these young adults' determination was admirable and they certainly proved that they are well on their way to being ready for the Armed Forces, further training or employment."
The Military Preparation College helps young men and women develop their physical fitness, functional skills and self-confidence – giving them the best possible chance to pass selection for the Armed Forces, and complete basic training. The college is free to attend, and there is no set deadline by which to apply, as the college operates a 'roll on, roll off' joining process, allowing new recruits to join on a weekly basis. Even those learners who decide not to pursue military or public service careers still leave the college with valuable new life skills and qualifications, setting them up for further education or employment.