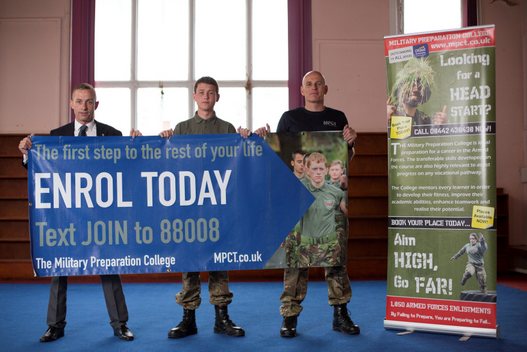 A new college dedicated to helping 16-18 year olds prepare for a rewarding career in the Armed Forces has opened in Wolverhampton, and is already welcoming applications from aspiring military teenagers.
The new Military Preparation College is based at Newhampton Arts Centre on Dunkley St in Wolverhampton.
The Military Preparation College helps young men and women develop their physical fitness, functional skills and self-confidence – giving them the best possible chance to pass selection for the Armed Forces, and complete basic training. Learners who decide not to pursue military or public service careers still leave the college with valuable new life skills and qualifications, setting them up for further education or employment.
Kevin Young, Area Manager for the Wolverhampton and Birmingham Military Preparation Colleges, said:
"We're very excited to be opening our 17th branch of the Military Preparation College in Wolverhampton and offering our special blend of active learning to local teenagers from in and around the city. Our emphasis is on helping every young person achieve their full potential and instilling in them core values, skills and qualifications needed to succeed in life – whether or not that ends up being in the Armed Forces."
Mr Young continues: "The rate at which we're expanding is phenomenal and the local residents in Wolverhampton have already shown an incredible amount of support to our teams. It's clear that there's a real need for this kind of facility in the area. We're all very much looking forward to the official launch event on 1st July."
The move follows the success of the Military Preparation College that opened in Frankley, Birmingham in January of this year.
Applications to join the new MPCT Wolverhampton can be made at any time by visitingwww.mpct.co.uk or calling 08442 438 438. The college is free to attend, and there is no set deadline by which to apply, as the college operates a 'roll on, roll off' joining process, allowing new recruits to join on a weekly basis. For students and their families interested in finding out more, the College will be hosting a launch event on 1st July 2015 at Wolverhampton Football Club, just opposite the college.
To date, The Military Preparation College has helped over 2,000 young people enlist in the Armed Forces since its foundation in 1999 and in August 2014, it was rated as 'Outstanding' in every area by Ofsted.
Research conducted by MPCT last month found that teenagers want to be fitter despite 70% saying they do less exercise now than they did in school. Further research also revealed that 70% of parents believe life skills will get their child further in life than academic skills.