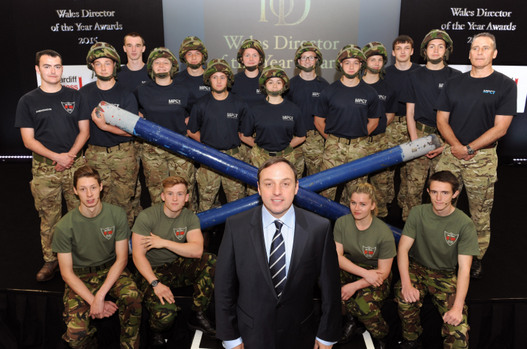 A former soldier from Wales who set up a specialist college to help teenagers prepare for rewarding careers in the Armed Forces has won a top regional business award for his directorship.
Mr Huw Lewis MBE, founder and managing director of The Military Preparation College (MPCT), was awarded the director's award in the fifth IoD Wales Director of the Year Awards, held at Cardiff's Swalec Stadium on Friday 15th May.
Mr Lewis MBE said:
"What an honour to receive this prestigious award. At MPCT, we employ over 70 extremely dedicated ex-military personnel, who together have over 1000 years' experience in the military. I dedicate this award to those individuals who are doing an amazing job of helping young men and women throughout Wales and beyond realise their full potential.82% of our learners will progress into employment or further education and that is a statistic I am very proud of."
Students from Mr Lewis' Cardiff college opened the event with physical training, log and public speaking demonstrations as well as a recital of the 'If' poem by Rudyard Kipling.
The Military Preparation College (MPCT) helps young men and women develop their physical fitness, functional skills and self-confidence – giving them the best possible chance to pass selection for the Armed Forces, and complete basic training. The college is free to attend, and there is no set deadline by which to apply, as the college operates a 'roll on, roll off' joining process, allowing new recruits to join on a weekly basis.
Since it was founded in 1999, the College has helped over 2000 young people enlist in the Armed Forces, and thousands more make positive progressions into further education or employment.