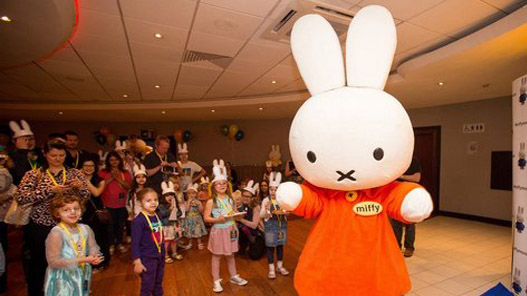 Dick Bruna's classic storybook character, Miffy, celebrated her 60th birthday yesterday with a make-over guaranteed to ensure the bunny's popularity endures for future generations.
'miffy the movie', the first stop frame animation feature film starring the character, had its UK première in London's Leicester Square yesterday. The film will be released on UK iTunes on 23 June.
Over 300 guests of all ages enjoyed a special birthday party before the screening, with craft activities, face-painting and the chance to pose with the birthday girl, Miffy.
It was also announced that Miffy will star in a new CGI TV show 'Miffy's Adventures, Big and Small' which launches on Tiny Pop on 2 October.
Dutch artist Dick Bruna first created Miffy in 1955 whilst on a rainy seaside holiday in north Holland – he entertained his young son by drawing a rabbit in the garden of his holiday house and making up bedtime stories about it.
Miffy's make-over started 18 months ago, when the original Miffy storybooks were updated for a modern British audience with refreshed texts by award-winning poet, Tony Mitton. The new, modernised books, published by Simon and Schuster, are now available from Waterstones and all good bookshops nationwide.
Loved by millions worldwide, the Miffy books are now published in more than 50 languages and have sold over 85 million copies.
The combination of the new film, new TV show and updated books ensures that Miffy is all set to attract a new generation of fans over the next 60 years!