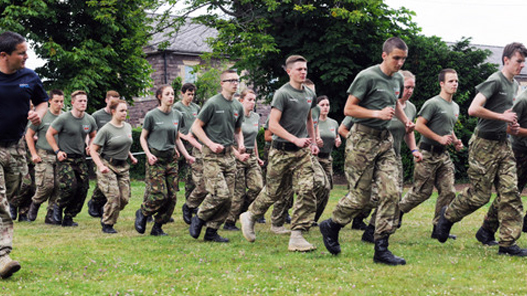 Students from the Military Preparation Colleges in Cardiff, Bridgend, Rhymney and Newport joined forces to launch the latest branch of the college at Raglan Barracks in Newport last night.
The Military Preparation College Newport (MPCT) will help young men and women from the region develop their physical fitness, functional skills and self-confidence – giving them the best possible platform for future careers in the Armed Forces, Public Services or other employment.
To mark the launch of the Newport college, around 30 students from the Cardiff, Bridgend, Rhymney and Newport branches of The Military Preparation College showcased their skills as part of a "Beating Retreat" ceremony by 104 Royal Artillery Regiment. Student demonstrations included Polish PT, a log display, a tyre flip race, tugs of war and a gun run race.
Huw Lewis, founder and managing director at The Military Preparation College, said:
"We're delighted to have officially launched our latest college in Newport, and to be bringing our unique blend of active learning and character education to the city. This is our first college to be based inside a working barracks, and the inspiration our students will take from the soldiers on the base will be immense."
The Military Preparation College now has 16 branches across the UK, including 6 in Wales at Cardiff, Bridgend, Rhymney, Bangor and Wrexham.
The college is free to attend, and there is no set deadline by which to apply, as the college operates a 'roll on, roll off' joining process, allowing new recruits to join on a daily basis.
Even those learners who decide not to pursue military or public service careers still leave the college with valuable new life skills and qualifications, setting them up for further education or employment.
The first day of college for the inaugural Newport learners will be on Monday 29th June 2015, with prospective students able to sign up daily thereafter.
To find out more about The Military Preparation College visit www.mpct.co.uk or call 08442 438 438.