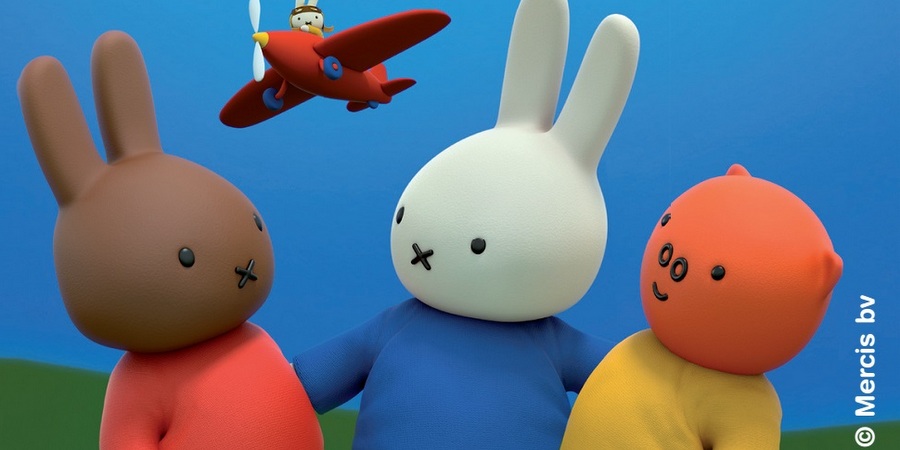 A brand new CGI pre-school TV show featuring Dick Bruna's classic character, Miffy launches tonight on Tiny Pop.
Miffy's Adventures Big and Small airs exclusively across the channel (owned by Sony Pictures Television) on its Freeview, satellite and cable platforms this evening at 7pm.
With Miffy's 60th anniversary celebrations in full swing this year, the new series marks the first time the iconic white bunny has ever been seen in CGI.
Miffy's Adventures Big and Small has been developed by London-based animation studio Blue-Zoo, and features 52 x 7' episodes. It is the animated sequel to the successful Miffy and Friends, the initial stop motion series which aired in more than 70 countries from 2003 onwards.
Featuring new children's voices, plus new characters and locations, each CGI episode features Miffy exploring the exciting world around her, with simple narrative and cheerful songs to drive it along. It will be faster paced and have more expressive animation than the previous series, yet remains true to the simplicity and iconic style of Miffy's creator, Dick Bruna.
Miffy's Adventures Big and Small will become a key part of Tiny Pop's evening block, Cuddle Time, which features gentle programming allowing kids, mums and dads to enjoy calmer family favourites before bedtime. Tiny Pop has the strongest evening viewing figures in the kids' category, from 7pm-midnight.
Mercis BV, Dick Bruna's publisher and manager of his international rights, has developed this new series and commissioned Blue-Zoo Productions to make the series. The series is distributed in Europe by Telescreen BV/m4e.
Frank Padberg, Mercis BV commented:
"We're delighted to be partnering for the first time with Tiny Pop to bring this brand new CGI show to UK audiences."
Alison Vellacott, Director at Highlight PR, adds:
"This is a really exciting time for Miffy and we're absolutely thrilled about the launch of the Miffy's very own TV show on Tiny Pop. This is a fantastic opportunity for this beloved character to reach a brand new audience as well as delight existing fans."
Sony Pictures Television Networks is the biggest non-terrestrial kids' TV broadcaster in the UK. The channel portfolio includes Tiny Pop, POP and Kix, which on average are watched for a longer period of time than any other commercial kids' channel.
Tiny Pop  – home to 'Miffy's Adventures Big and Small', 'Mike the Knight' and 'My Little Pony' – is the fastest growing kids' channel in the UK and available on Freeview (126), Sky (617) Virgin Media (737) and Freesat (605).