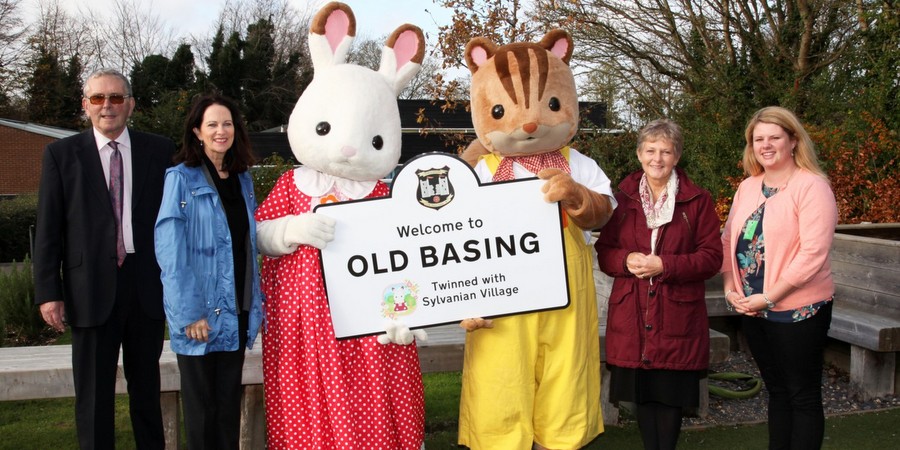 After a national search and thousands of votes by fans, a picturesque village in Hampshire has been officially 'twinned' with Sylvanian Village – the fictitious world populated by the cute woodland animals that are Sylvanian Families.
Old Basing, near Basingstoke, was the winning village. It met the 'Syvlanian criteria' of being idyllic, surrounded by woodland, possessing a school and having a happy, caring community.
With so much prestige at stake, this was a closely fought competition. With one week to go before voting closed, Old Basing and another village just 11 miles away were battling it out for the title.
But Old Basing emerged triumphant in the end. The delighted community came together this week for an official twinning ceremony at the village infant school. The Sylvanian Families characters presented the parish council and head teacher with a special sign, after which they entertained the children with a live dance performance.
This competition, which ran on social media and generated over 40 pieces of press coverage, was the culmination of our year-long PR strategy for the 30th anniversary celebrations for the toy range.
We also set up a regional partnership with the National Trust, comprising the launch of a new Sylvanian Families nature trail in Surrey, plus two birthday picnic events for fans which were held at National Trust properties in the summer.
Alison Vellacott, Consumer PR Director of Highlight PR, comments:
"The twinning ceremony was the icing on the cake to what has been a great year for this much loved family brand. Press coverage has snowballed thanks to our PR activity, whilst our social campaigns which reached out to original fans who collected Sylvanians in the '80s, have now been nominated for three industry awards".
Sylvanian Families twinning ceremony photography c/o Tony Tuck