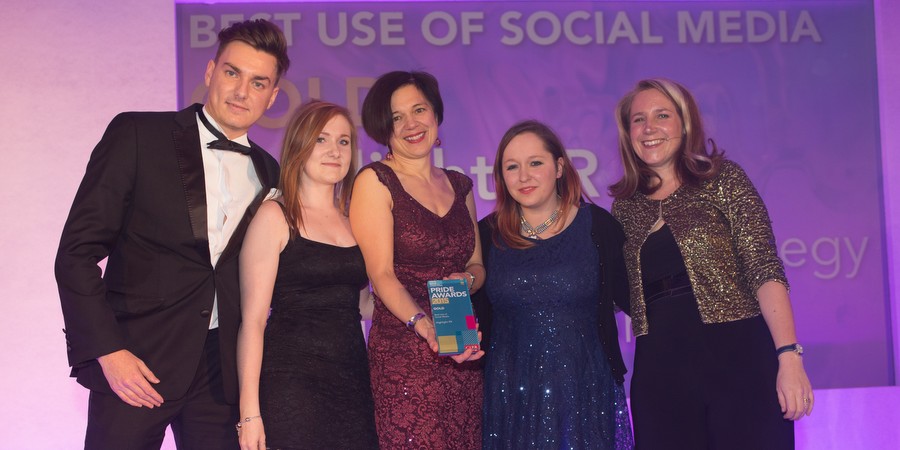 We're thrilled to announce we've won gold for 'Best Use of Social Media' in the 2015 South of England & Channel Islands PRide Awards (run by the Chartered Institute of Public Relations). We picked up the award at a black-tie dinner at The Bristol Marriott Hotel in Bristol on Friday night.
This prestigious industry award was for our campaign to mark the 30th anniversary of iconic toy brand, Sylvanian Families. Targeting millennials who avidly collected the cute, little woodland animals and connectable dolls houses when the brand launched in the mid '80s, as well as parents of today's younger fans, we used vintage products, posters, quizzes, fan polls, photo competitions and giant product giveaways to evoke nostalgia and engagement throughout the last 12 months.
Social outreach also sparked a regional partnership with the National Trust – leading to the first ever Sylvanian Families Nature Trail at Hatchlands Park (a permanent visitor attraction launched in May), plus two hugely successful birthday picnics hosted by NT properties in the summer. We also used the Sylvanian Twitter feed to engage with key journalists from the Sunday Times, the Guardian, Sky News, Daily Telegraph, Vogue, and Buzzfeed.
All of this activity has helped grow the social community to over 100,000 and get people talking about Sylvanian Families again. Combined with other marketing activity, the much loved brand is now firmly back on consumers' radars – currently it is the third best-selling collectible toy in the UK, according to recent NPD figures.
The CIPR PRide Awards received 950 entries from public relations teams, consultancies and individuals across the UK with around 300 entries shortlisted across the UK in 9 different awards nations and regions. 66 judges across the UK judged the 2015 CIPR PRide Awards; entries were judged in teams based outside the region of entry.
Alison Vellacott, Director at Highlight PR comments:
"When you have top national journalists commenting on how good the social media content is for Sylvanian Families, you know you're getting it right! We're thrilled to have won this award in recognition of our creative strategy over the last year, and the phenomenal results we have achieved".
Located in the centre of Bath, Highlight offers PR, social media and content marketing expertise to kids, family & lifestyle brands; education and training colleges; and creative and pioneering companies.