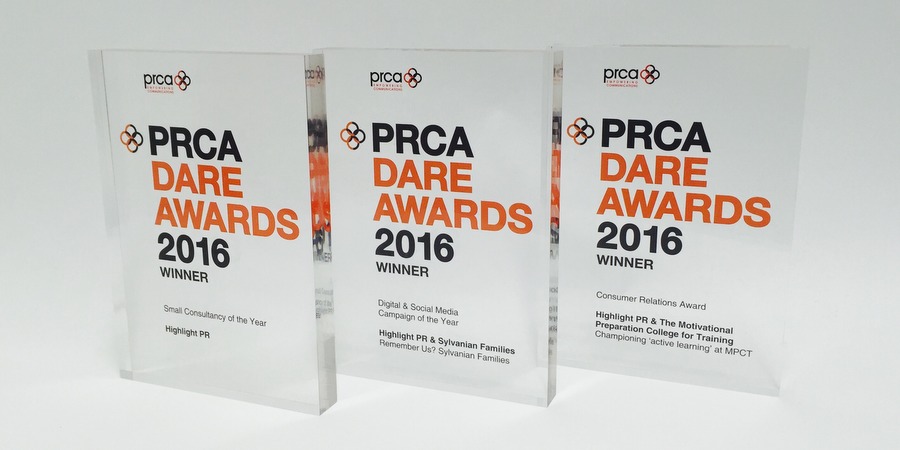 The Highlight team is celebrating after picking up a trio of prestigious communications awards at the 2016 PRCA DARE Awards for the South West & Wales region.
Highlight received the night's biggest award, being named Small Consultancy of the Year for the region. The big win recognises the wide range of PR, social media and content marketing services that our experienced team offers to clients based both in the UK and internationally.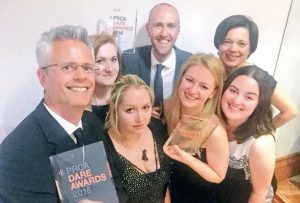 We're particularly proud to receive this honour, as it's industry recognition of the successful campaigns that we're delivering for clients on both sides of our agency – supporting both creative and pioneering companies, and kids, family and lifestyle brands.
Our Remember Us? campaign for Sylvanian Families collected the Digital and Social Media Campaign of the Year award, with our successful Pass Miffy On campaign for Miffy also shortlisted in this same category.
Rounding out the trio of wins, our national awareness campaign to promote the great work of the Motivational Preparation College for Training received the top prize for Consumer Relations.
The PRCA DARE awards from the Public Relations Consultants Association seek out and reward the very best use of PR for communications purposes across the UK. An independent judging panel of communications professionals select the winners.