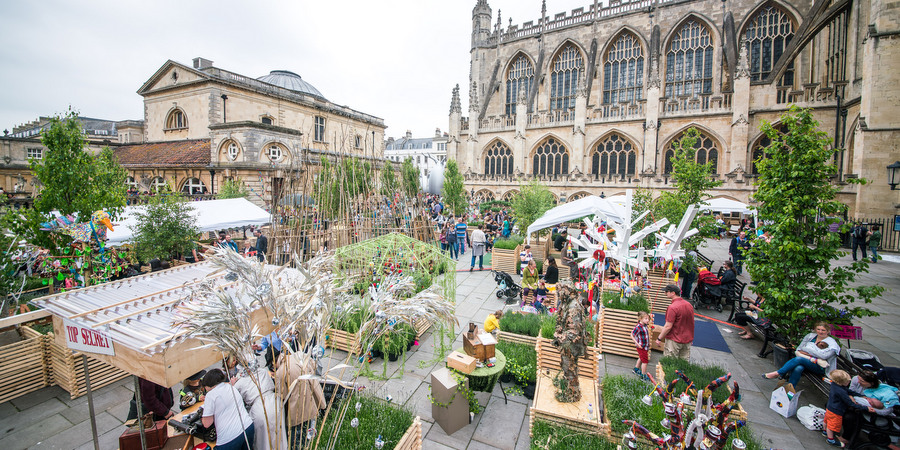 Forest of Imagination has enjoyed its most successful year to date after attracting an estimated 10,000+ visitors to its fantastical forests, outdoor galleries and creative workshops.
The free, pop-up contemporary arts event took place 3-6 June 2016 and saw Bath Abbey, Abbey Green and Kingston Parade transformed by a playful programme of sensory installations, artworks and participatory creative activities for visitors of all ages.
A celebration of creativity and nature, Forest of Imagination 2016 included sound installations composed by Martyn Ware, founder of Heaven 17 and Human League, as well as artworks by local artists. Children's arts charity The House of Fairy Tales also returned to the event with a programme of playful activities and theatrical performances.
With a strong focus on conservation, the 2016 event featured giant inflatable Baobab trees outside the abbey, while Bristol Zoo led workshops for local school children.
For the first time the event made use of Augmented Reality (AR) to offer an additional, virtual world for visitors to explore. Other attractions included a 'Creative Forest' where artists, schools and visitors were invited to create 'a thousand trees' by mixing fantastical, made trees with living specimens.
Forest of Imagination is the brainchild of a collaborative team of Bath-based businesses and organisations, including landscape architects Grant Associates, arts-based charity 5x5x5=creativity, creative consultancy Imaginnovation, architects Feilden Clegg Bradley Studios, Herman Miller and Bath Spa University.
Andrew Grant, Director, Grant Associates, said: "Each Forest of Imagination has been special, but 2016 has surpassed our expectations on every level. The general public's support has been exceptional, while the commitment and energy lent to the event by creative businesses and artists from the local area (and beyond) is hard to overstate. As a result, the event was able to offer an even greater range of sensory and magical experiences.
"We'd like to thank everyone for their participation. We invite you all to keep exploring your own imaginations, and learn more about the fantastic but fragile forests across the globe that need our protection."
Here's a gallery of photos from the Forest of Imagination 2016 event:
Read about the 2015 Forest of Imagination event here.