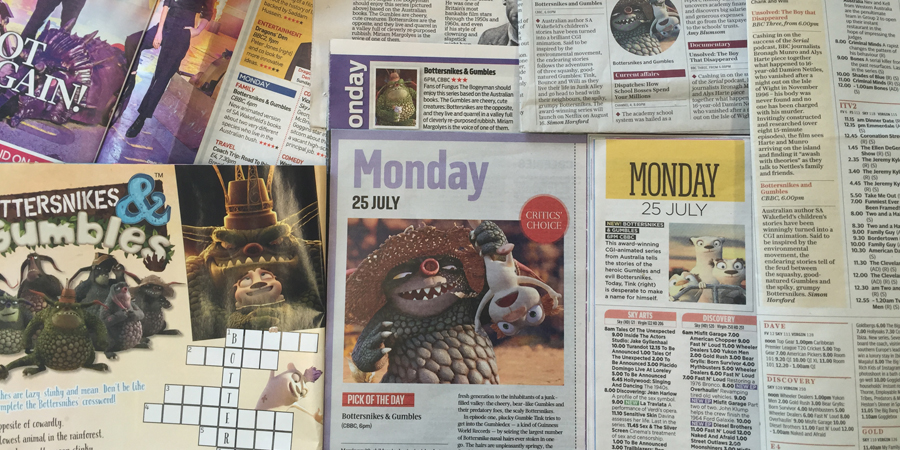 Getting reviews of kids' TV shows in national listings press can be a challenge – these pages are usually dominated by reviews of adult programmes. So we're pretty pleased to have well and truly smashed it for Bottersnikes & Gumbles, a new kids' animation launching tonight on CBBC at 6pm.
From Critic's Choice in yesterday's Sunday Times to Children's Choice in this week's Radio Times, we have helped secure 9 Pick of the Days (so far) across national press with positive reviews across the board.
The new series – which brings to screen the 1970s classic Australian storybooks written by SA Wakefield and illustrated by Desmond Digby – is described as being a 'winning' adaption, which 'introduces a fresh generation to the inhabitants of a junk-filled valley'.
As well as listings press, we also secured the 'My Photo Scrapbook' feature in yesterday's Sunday Mirror Notebook magazine for Harry Potter actor and BAFTA winner Miriam Margolyes, who voices Weathersnike, an evil Bottersnike. Miriam could also be heard telling Chris Evans on his Radio 2 Breakfast Show this morning that her character is "Absolutely ghastly… I want all the children to hate me… It's always more fun to play a monster!"
Highlight's consumer team has been working alongside CAKE Entertainment and Australia's Cheeky Little Media and Mighty Nice, and CBBC. Launch activity has included a London press event, social media, blogger outreach and editorial activity pages in kids' magazines.