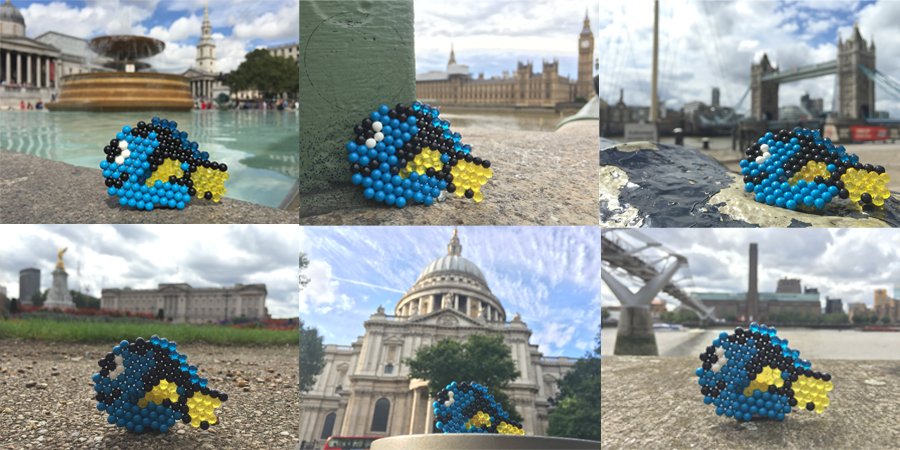 Highlight PR's consumer team took to London last week to run a fun game to mark the launch of Aquabeads' new range of Finding Dory-themed products.
The stunt for the popular children's craft brand saw families and tourists taking part in a treasure hunt around London, as well as on social media with virtual 'hide and seek' games and giveaways.
In the days leading up to the activity, Highlight's office was awash with coloured beads as we made up 100 Aquabeads creations of Dory and Nemo characters. Each creation was then hidden near iconic landmarks across the city, including: Big Ben, Tower Bridge, Tate Modern, London Eye, Hamleys in Regent Street and The Disney Store in Convent Garden.
Maps and clues – together with the hashtags #FindingAquabeads and #FindingDory – were posted on Aquabeads' social media channels in real-time on Thursday to help people find the Dorys and Nemos that were dotted throughout our nation's capital. For Shakespeare's Globe, we hijacked the Bard's most famous lines: 'Dory, Dory, wherefore art thou, Dory?' and 'To swim or not to swim? That is the question'.  And for The Sherlock Holmes Museum on Baker Street, there was only one possible clue we could use: 'It's elementary, my dear Nemo!'
People who tweeted a photo of the Dory or Nemo they had been lucky enough to find were then entered into a free prize draw to win a family holiday. For fans of the brand who weren't in London, we ran 'Where is Dory?' guessing games plus regular product giveaways throughout the day.
With more than 2,000 tweets mentioning the #FindingAquabeads hashtag and over 800 tweeters taking part, the potential reach of the competition after 24 hours was 1 million, with 4.8 million potential impressions.
"Kids and parents really got on board with this game and they were absolutely thrilled to find a Dory hidden near a famous landmark," commented Alison Vellacott, Director of Consumer PR at Highlight. "We received some great comments through on social media, including "This has really made my day out in London!" and "My child is so excited she wants to go round London to find the other 99!" It was a great experience."
Aquabeads is one of the top arts and craft brands, according to NPD's Craft Kits rankings in 2016, with newly-released licensed products including Finding Dory, Cinderella, Minnie Mouse and Frozen helping to boost sales.