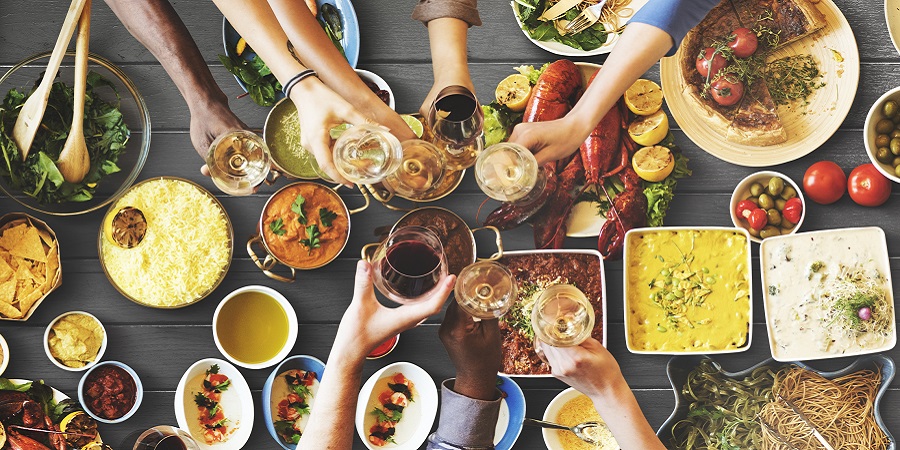 The dawn of a New Year can bring with it a host of new opportunities. For ambitious food and drink brands looking to make an impact in 2018, a solid understanding of trends and patterns in consumers' purchasing decisions and lifestyle choices can serve as a firm foundation for investment and marketing decisions.
Consumer habits and attitudes continue to shift and evolve, so the brands that adopt a flexible and responsive approach, and that have the foresight and capability to adapt product, packaging and marketing strategies in line with audience demands, will be well placed to build sales and market share this year.
Here are six food and drink trends set to influence the market in 2018:
Savvy shoppers take the steering wheel
It used to be that brands and retailers were the ones steering the market. Not anymore. Consumers are firmly in control. They show unprecedented control over when and where they shop, what they buy and how they consume it*. They're educating themselves on the products that can best support their lifestyle choices and fit with their budget.
A brand's story, values and ethos are becoming increasingly important to consumers. Good packaging design on its own is not enough anymore. These smart, mindful shoppers are doing their research.
Snacking gets even healthier
Eating between mealtimes has become a well-established consumer habit. A whopping 93% of UK consumers snack, with 63% enjoying a snack at least once a day. But almost two-thirds also want to eat healthily 'all' or 'most of the time.'** This presents a huge opportunity for brands who operate in the snacking sector.
Kallo, for example, has just launched a brand new line of healthier crisps – taking the brand into a new territory. Kallo Pop-Crisps are low in saturated fat, low in calories, no sugar and high in fibre: a great example of a brand adapting to suit consumer needs. Expect to see much more NPD innovation in the healthy snacking category this year.
More to go meat free as interest in plant-based proteins rises
More and more of us are choosing to reduce our meat consumption or cut it out altogether. Some 28 per cent of meat-eating Brits have reduced their meat consumption in the last six months, with 14% expressing interest in limiting meat and poultry in their diets in the future****. Many are instead choosing a 'flexitarian', 'vegetarian' or 'vegan' diet, so there's no wonder why there's such a buzz around new plant-based proteins.
Peanut butter, for example, is a natural source of protein and fibre which is seeing category sales soar – up 20% in the last year with category leader Whole Earth making great strides last year, riding on this wave of popularity.**
Strong is the new skinny as demand for functional food grows
Consumer's motivations when buying foods has shifted from simply fulfilling hunger to a more considered approach. Much more attention is now being paid to the list of ingredients and nutritional value of each product. Whether they want to cut back on sugar, fuel an active workout or avoid gluten, shoppers are putting foods in their baskets that best supports their lifestyle and dietary needs.
Social media stars like Joe Wicks, who champion high protein diets and exercise, are feeding consumer demand for functional foods that promote a healthier lifestyle.
Transparency and traceability are a top priority
Authenticity, ethics and provenance are growing in importance for consumers. They seek brands that have a conscience and are transparent and honest in the ingredients that they use. This is in part being fuelled by the prolific rise of consumers using social media as a customer service outlet, which is driving brands to be more open as dialogue with consumers is much more public than it ever used to be.
Ethical shopping is increasing and trends like Fairtrade and organic will continue to grow as consumers' conscience guides their purchasing decisions. This has led to an increased use of natural as well as ethical and environmental claims in global food and drink launches.***
Sustainability and environmental principles lead the way
Consumers are growing more concerned about the world around them. Climate change, plastic pollution, and air quality are issues that are gaining big momentum in media coverage and worldwide attention.
While consumers look to the small changes they can make themselves, they are also looking at what brands are doing to reduce their impact on the environment: for example, 73% would like to see more food/drink that is guaranteed to be sourced from (unpolluted) waters*** and more than half of consumers would be willing to pay more for recyclable packaging. What is your brand doing to make a positive change? What could you do?
Make the most of the latest trends
A strong understanding of the latest and emerging consumer trends could pay dividends for your brand.
At Highlight, we help pioneering brands operating within the food and drinks sector to make the most of these trends and amplify their messages by delivering PR, content and social campaigns that reach the right audiences with the right message. Our experienced team offers a tailored approach to suit individual business needs, so get in touch and let's chat about how we can help your brand stand out in 2018. There's no time to waste.
* Waitrose food and drink trends report 2018
** Mintel food and drink trends 2017
*** Mintel consumer trends 2018 report
**** Mintel's Meat Free Foods Market Report