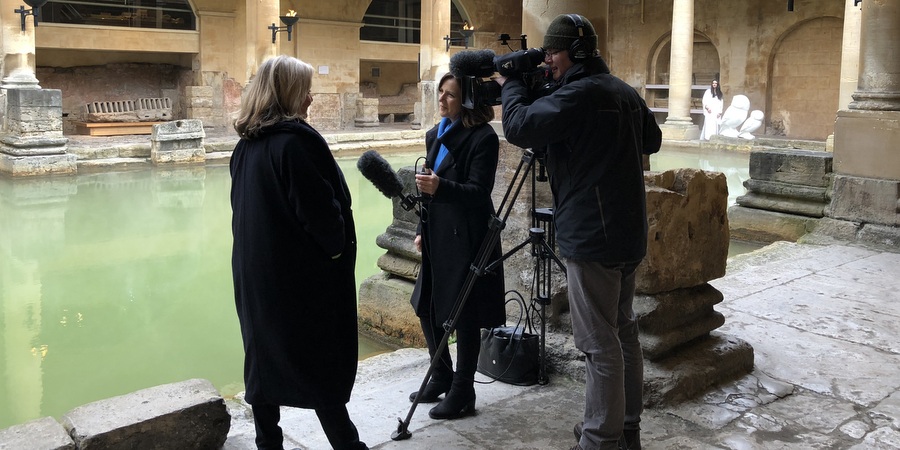 We had a hoot this week, launching Minerva's Owls of Bath – the latest public art sculpture trail from the team behind Bath's popular King Bladud's Pigs trail 10 years ago.
The new trail will see around 100 large Owl and smaller Owlet sculptures swoop into the City of Bath and surrounding regions for three months from 25 June 2018.  Highlight is masterminding PR for the project from now until the final charity auction in November.
Each large Owl will be sponsored by a local business and individually decorated by talented artists, before being auctioned in aid of four local charities at the end of the year.  Smaller owlets will be exclusively available for schools, charities and local community groups to sponsor, and then keep as a lasting legacy of the project.
The media launch and initial call out to sponsors and artists was held on Tuesday 6th February 2018 at The Roman Baths.  The choice of Owls was inspired by the Roman Goddess Minerva, whose animal symbol was an owl, and to whom the Roman Baths were dedicated in the 1st Century AD.  We recruited reigning Miss Bath Amelia Watt to play the role of the Roman Goddess Minerva, complete with a real Little Owl called Pip.
Journalists, reporters and photographers from BBC Points West, The Bath Chronicle, The Bath Magazine, Heart FM, Somerset Life, Bath & Wiltshire Parent, Bath Newseum and Bath Business.net plus a good number of top South West bloggers and instagrammers attended the event.   Live interviews were staged with BBC Bristol and BBC Somerset on their breakfast shows, and BBC Points West carried a 2 minute feature in their evening show.
With a strong national feature in The Guardian on the same day, PR for this exciting event has got off to a flying start.